The Pat Tillman Foundation has announced its scholars for 2022 which includes three Syracuse University College of Law students: Natasha DeLeon (USMC Veteran), Amanda Higginson (Navy veteran), and William Rielly (Army veteran.) They join a fourth Syracuse University Tillman scholar, Anthony Ornelaz, Master of Fine Arts, College of Arts and Science, Air Force Veteran.
"Tillman Scholarships are extremely competitive and are only awarded to those who have made an impact through their service. I am both pleased and grateful that not one, but three College of Law students have been awarded Tillman scholarships for this year. Natasha, Amanda, and William are living extraordinary lives through their military commitments and now they are on the path to becoming extraordinary Orange lawyers," said College of Law Dean Craig Boise.
The three students are enrolled in the College's JDinteractive (JDi) program. Reilly is in his second year, Higginson is in her first year, and DeLeon will start the program in the Fall 2022 semester.
An ABA-Approved Online Law Degree Program, JDi is taught by Syracuse University College of Law faculty to the same high standards as Syracuse's residential J.D. program. JDi is designed for students who desire a high-caliber legal education with substantial flexibility, such as those with military commitments. The program combines real-time, live online class sessions with self-paced instruction, on-campus courses, and experiential learning opportunities.
Read this story for more information on the Syracuse University 2022 Tillman scholars.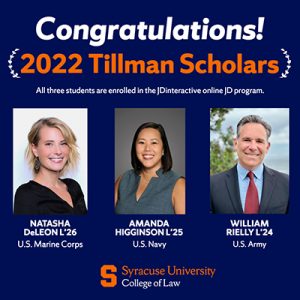 Natasha DeLeon, USMC Veteran
Natasha DeLeon joined the United States Marine Corps to pursue her goal of serving others on a grand scale. As a Marine, she worked to deploy service members to combat locations in support of various operations. In 2014, she deployed to Afghanistan in support of Operation Enduring Freedom, where she aided in the return of over 120,000 service members to their families back home.
While serving in the Marine Corps, DeLeon began volunteering in San Diego's foster care system as a Court-Appointed Special Advocate. This led her to pursue a Bachelor of Arts in Psychology and work part-time at a group home for teen foster boys. Upon completion of her service, her passion for social work grew. DeLeon earned a Master of Social Work in 2019, while she also interned as a therapist. During this time, she lived in Togo while supporting her husband during his active-duty Marine Corps career. While in West Africa, DeLeon led physical self-defense courses for women in vulnerable positions and volunteered with non-profit organizations centered around eliminating gender-based violence.
Following their tour in Togo, DeLeon and her family moved to Colombia where she began working remotely as a paralegal for a private law firm. This is where she began to connect the injustices in the legal and social work systems. From here, DeLeon developed a passion for criminal defense and family law. She is pursuing a Juris Doctor degree so she can provide legal assistance and advocacy as an attorney.
Amanda Higginson, Navy Veteran
Adopted as an infant, Amanda Higginson's upbringing in South Florida was anything but typical. Her father, who was shot and paralyzed in the Vietnam War, taught her about extreme resilience and persistence in the face of adversity. Wanting to give back to military medicine, Higginson received a Navy Health Professions Scholarship and earned her medical degree at the Alpert Medical School at Brown University. She completed her residency in Pediatrics at the Walter Reed National Military Medical Center Bethesda and served on active duty for seven years alongside her husband, deploying twice.
Currently the interim Associate Dean for Student Affairs at the Brody School of Medicine at East Carolina University, Higginson supports students on their journey to achieve their personal, academic, and career goals. She continues to practice general outpatient pediatric medicine, caring for children in a largely rural, underserved area. Choosing to enter law school as a mid-career physician, Higginson saw law school as an opportunity to enhance her advocacy for children particularly related to social determinants of health, as well as expand her knowledge of issues that impact the daily functioning of an academic medical center in order to more effectively advocate for her students. At the intersection of law and medicine, Higginson hopes to create structural change both at work and in her community to empower others to live, work, and achieve their goals at their full potential.
William Rielly, Army Veteran
William Rielly is an Army veteran and West Point graduate. His career has ranged from leading artillery units in Germany to executive roles at Microsoft and Apple. While working at Apple, Rielly started volunteering in California state prisons and found the incarcerated men he worked with wanted to be accountable for their actions and create a positive future. He discovered immense untapped potential among the incarcerated men and was inspired to leave his job at Apple and focus full-time on reform efforts in the criminal legal and parole system.
Rielly intends to change the parole and probation laws across the country to create pathways of redemption for incarcerated and formerly incarcerated people so they can leverage their talents, achieve their full potential, and positively impact their communities. He intends to lead this innovation and create a better system through legal advocacy, changing the public's perception of the issues, and enlisting advocates inside and outside the current system. The outcomes he foresees are better, safer communities; more highly qualified employees; and a criminal legal system of accountability and redemption.