An ABA-Approved Online Law Degree Program
JDinteractive is taught by Syracuse University College of Law faculty to the same high standards as Syracuse's residential J.D. program. JDi is an ABA-accredited, online J.D. program designed for students who desire a high-caliber legal education with substantial flexibility. The program combines real-time, live online class sessions with self-paced instruction, on-campus courses, and experiential learning opportunities.
Register for a live open house webinar
Some of the advantages of studying law through JDinteractive:
Earn your law degree from Syracuse University College of Law, an internationally recognized law school with world-class faculty and a strong alumni network.
Engage in active learning with online courses that are a fine-tuned mix of live sessions and interactive self-paced ones.
Make meaningful connections with other J.D. students, including by participating in student organizations such as the Student Bar Association and Syracuse Law Review.
Take elective courses that allow you to explore areas of particular interest.
Get practical experience before you graduate with our supervised externship program.
Earn the same J.D. degree as residential J.D. students.
Earn an M.B.A. at the same time as your law degree: Syracuse offers the nation's first online joint J.D./M.B.A. degree program in collaboration with the Whitman School of Management.
Experience the advantages of being part of Syracuse University, a world-class research university.
JDinteractive Bar Passage
Congratulations to the Class of 2022 JDinteractive students on their 100% New York State and 84% nationwide bar passage rates!
The College of Law offers the Helix Bar Review prep course free of charge to all its students.
About Helix: 2022 Bar Passage Success Rates
About Our Classes
About the JDi Student Experience
JDi students have access to a broad range of student programming and support services, including academic counseling, tutoring, bar exam preparation, and professional development opportunities.
JDi students are active in a variety of student interest organizations, including the Syracuse Law Review, Student Bar Association, and JD Beyond.
Our Office of Career Services provides JDi students with a broad slate of career-support options, including résumé review, mock interviews, and more.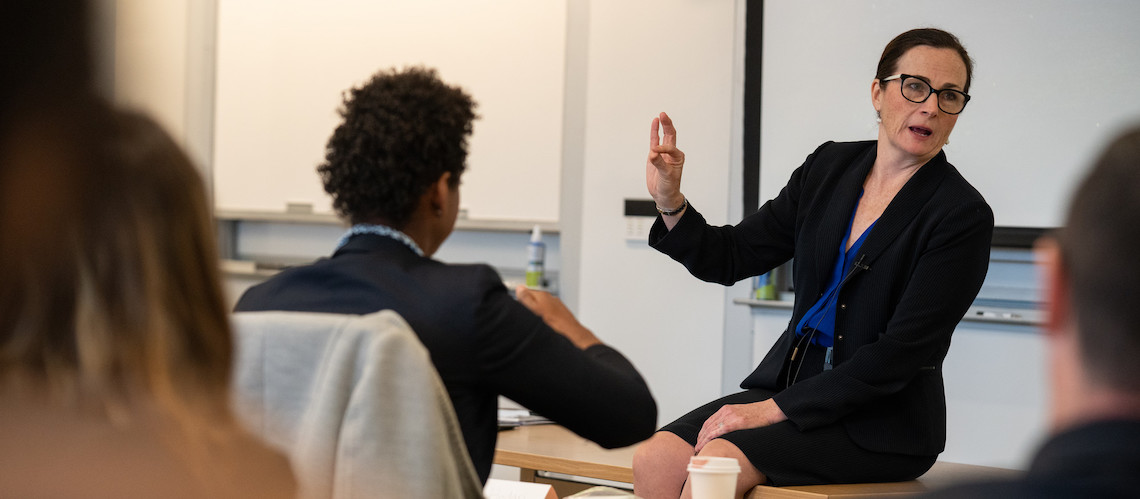 What They Are Saying About Syracuse's Online Law Degree Program
One of the immediate advantages of hybrid and online programs is the flexibility they allow, as flexibility begets access. Syracuse … may now become an option for a talented student for whom the opportunity and other costs of a residential program would have been too high even to consider.
Syracuse University College of Law is pioneering one of the nation's hybrid JD programs, available for enrollment in 2019, and others are looking into the potential advantages of this type of offering, particularly as the post-secondary student body grows in non-traditional, mid-career adults seeking credentials from flexible programs.
"This program will be incredibly helpful to those who just can't pursue an on-campus law school education. Whether it be because of jobs, families or any other reason, the commitment of being a full-time student on campus for three years can be taxing."
"I started Googling 'online law school' and quickly discovered that there was a new program that would fit my needs," Morris said. "This program is quite literally the only way that a legal education is approachable given my professional and family life."
THE POWER OF ORANGE

Founded in 1895, Syracuse University College of Law offers students a forward-leaning, rigorous legal education that prepares a diverse student body to succeed in the practice of law and other professional endeavors. 
The College of Law's classroom and practical curriculum is designed to ensure that graduates have the knowledge, discipline, and analytical skills to succeed in the 21st-century legal profession and related fields. At the same time, the College promotes the development of the law and justice by engaging in significant and creative legal scholarship, and by participating actively in the local, national, and international legal communities.
To study the law is to join the ranks of some of the best minds in history. You join leaders, idealists, inventors, entrepreneurs, dreamers, agents of change, and heroes. This is the tradition you enter when you study at Syracuse University College of Law. We believe an outstanding legal education is as dynamic as the law itself.
Syracuse puts you at the center of an intellectual, professional, personal, and cultural experience. It is an experience that will make you a better lawyer and a better leader. Syracuse sits at an enviable position for law schools. It is rigorous, intimate, and friendly. Your mentors are faculty known for extraordinary teaching who also happen to be thought-leaders in their fields.
Ranked among the best in the nation for our trial and appellate program, the College also is a leader in emerging fields such as disability law, national security law, and technology commercialization. Over the years, the College of Law has graduated many influential and successful lawyers, business professionals, and financial leaders.
We are proud to count among our alumni a US president, members of the Senate and Congress, state senators and assembly members, state attorneys general, and many federal and state judges. In addition, many of our alumni have moved into leadership positions in some of the world's largest law firms and into the fields of finance, real estate development, and international business affairs.
From big law firms to solo practice startups, from judicial clerkships to public advocacy, from the United Nations to Capitol Hill to Hollywood and across the globe, the knowledge and networks you create at Syracuse are at the heart of an incomparable experience and an education designed to endure.
That's the Power of Orange.