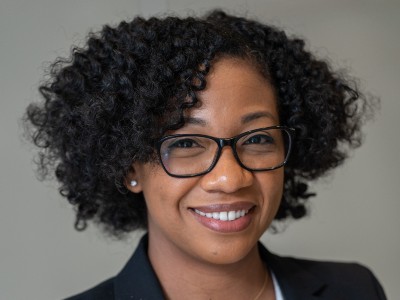 Syracuse University College of Law's JDinteractive (JDi) program is the country's first fully interactive online ABA-accredited law degree program. The program provides students with the ability to pursue their law degree from anywhere in the world. Military spouse Tiffany Love is a member of the first cohort of JDi students.
She was planning to attend law school in person in 2019 after her family returned from being stationed in Japan. While preparing for the Law School Admission Test, her husband's military career forced her to change her plans. Instead of being sent back to the United States, her husband was ordered to serve in Germany for the next several years.
Love says the JDi program is flexible enough that she can complete the coursework from anywhere. Each class has a live and recorded component, and the program includes six in-person residencies. Students also participate in externships to earn academic credit while gaining real-world legal experience.
Love has recommended the program to people that have "noticed the Syracuse law memorabilia" on her desk. Several service members she has worked with have always wanted to attend or are considering law school, she says. "In my experience as a military spouse, living overseas in two different locations during this program, I would absolutely recommend and have recommended it to several soldiers that have come across my desk," Love says. "The staff has always been so welcoming, with open arms." (Watch Love speak on the benefits of the program).
One faculty member in particular has made a positive impression upon Love. She first met Beth Kubala, teaching professor and executive director of the Betty and Michael D. Wohl Veterans Legal Clinic in the College of Law, in January 2020, when she attended an in-person residency. Kubala was also stationed in Germany over the course of her military career, and Love says their social circles overlapped. "That's where we connected and I've reached out at various times since then, as she has as well," says Love. "It is two-fold, it makes me feel good about the university itself and its far-reaching benefits. It also makes me feel good about where I am with the people whom I work with. I'm still with a great group of people whose reputations continue to precede them. That's been really neat."
Love was looking into volunteering at the Betty and Michael D. Wohl Veterans Legal Clinic one semester, and Kubala made it a point to make sure they could connect. "We met over Zoom, and she was willing to be flexible with me," says Love.
JDi has enabled Love to overcome the physical distance and work on her law degree. "I met with our constitutional law professor last summer. It was after work for me and it was morning for him, but they've been very flexible. Help, chat or support, they're there and willing to find the time. The program is so portable that it doesn't matter where I am and what time zone I'm in," she says.
This type of training has certainly paid off for students like Love. She says her class experience has not been hampered by living thousands of miles from her classmates and professors. "In class we still get the same experience. We still get cold-called. We still get drilled for details about cases," she says.
Community is a hallmark of the JDi program. "My study partner is in Philadelphia, and we try to meet once a week on Zoom and just connect and review if we need to," says Love. "I still feel extremely connected to my classmates even though we're very distant."
https://news.syr.edu/blog/2021/07/22/college-of-laws-online-jdi-degree-gives-military-spouse-ability-to-follow-her-passion/