Questions & Answers About JDinteractive
Apply Now!
ACADEMICS
How does Syracuse University College of Law train lawyers appropriately in an online setting through JDinteractive?
JDinteractive has the same rigorous curriculum requirements as our residential JD program. More than half of the class time take place in "real-time" (synchronous) classes with professors and students interacting as they would on campus.
The program also includes online class sessions that students can complete on their own schedule. These class sessions engage students in the material through interactive exercises particularly relevant to the legal concept at hand. Finally, the Syracuse online JD program includes traditional in-person learning experiences. Students participate in residential courses and in applied learning experiences, including externships.
The online learning platform enables Syracuse faculty to use both traditional and innovative teaching and assessment tools. Our interactive learning platform empowers professors to teach online using the traditional law school Socratic method, and it empowers online students to engage with content and receive feedback from classmates and professors in real time.
Where are the six residential courses held?
The first four residencies will be held at Dineen Hall on the Syracuse University campus located in Syracuse, NY.  The last two residential courses will be held on campus or another Syracuse University location such as New York City, Washington, DC, or Los Angeles.
Who serves as faculty?
Syracuse University College of Law faculty teach online classes. All academic functions, including the development of course materials, are handled by the College of Law.
What type of coursework is offered?
The JDinteractive curriculum parallels that of Syracuse's residential J.D. program, and graduates will earn exactly the same degree. Both Syracuse J.D. programs have the same learning outcomes and level of academic rigor, but JDi students have the benefit of a flexible online education experience.
In addition to online coursework and in-person residential courses, students are expected to complete an externship as part of the JDi program. Externships offer students opportunities to earn academic credit while gaining real-world legal experience under the supervision of a practicing attorney. Students are able to explore various areas of the law and potential career paths while engaging with alumni and building professional networks.
Learn more about the curriculum.
How much time should students expect to spend preparing for online classes?
Each professor will have different expectations for his or her class, but students should expect to spend an average of two hours of preparation and study time for each classroom hour over the course of the semester.
Do online students have the option to take joint degrees or certificates of advanced study (CAS)?
As designed, JDinteractive does not offer joint degrees or CAS at this time.
What student organizations and experiential courses, clinics, and externships will be available to JDinteractive students?
Online students will have the opportunity to join the student-run Law Review and to have a Moot Court experience. Online law degree students also participate in the College's externship program. However, because of the off-campus portion of their instruction, online students are not able to take part in the College's in-person clinical legal education program.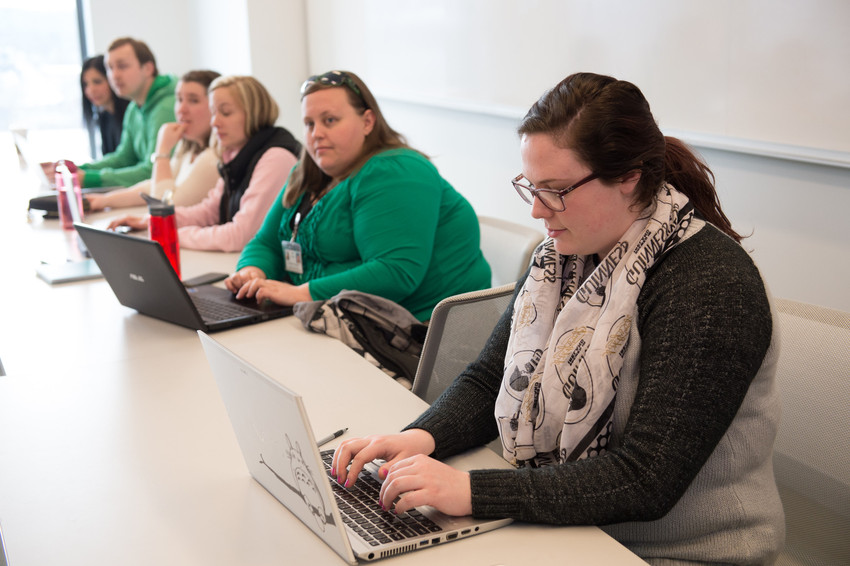 ADMISSIONS
When will you begin admitting students?
We plan to accept applications beginning in April 2018 and enroll our first class in January 2019. After the inaugural January 2019 matriculation, online JD cohorts will matriculate every August, similar to our residential program. Online students complete the same number of credit hours as residential students.
Do applicants still have to take the LSAT? Is the process different?
Admissions standards and requirements are equivalent to those in our residential program, including the testing requirements, which currently include the LSAT.
Do you accept GRE results in lieu of the LSAT?
Beginning with the class entering in Fall 2019, applicants to Syracuse University College of Law who have taken the GRE may be eligible for an LSAT waiver. The LSAT waiver is conditional upon faculty admissions committee approval and will be considered in limited circumstances where the LSAT is not available or practicable, financial hardship exists, the GRE was taken in the process of applying for another graduate degree program, or for other good cause shown. GRE scores can be no more than five years old from the date of application to the College of Law. Before applying, applicants pursuing an LSAT waiver should email admissions@law.syr.edu or call 315.443.1962.
Do students apply through LSAC?
Yes. JDinteractive students apply for admission using Law School Admission Council (LSAC) services.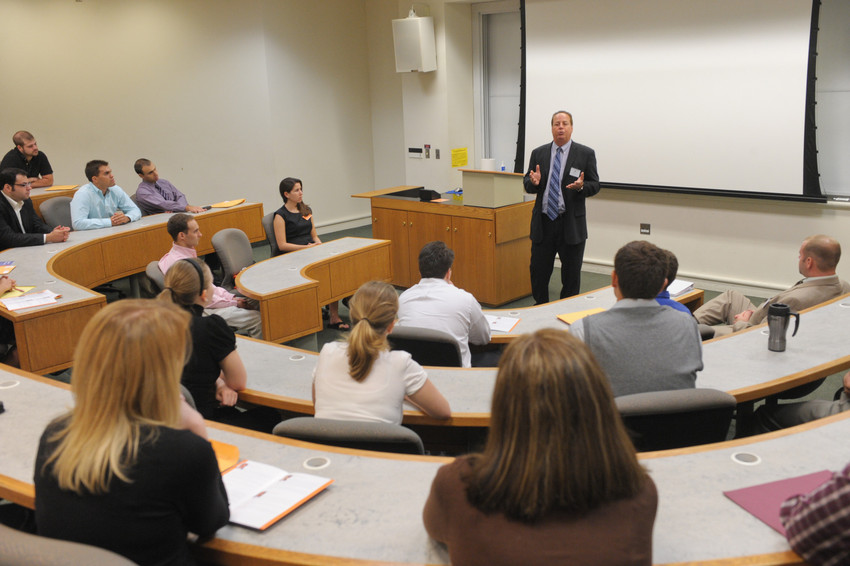 TRANSFERS
Can a law student from another law school transfer to the online program?
Beginning in August 2020, we expect to be able to consider qualified transfer students to the extent we have room to add them.
Can Syracuse law students transfer between the online and residential J.D. programs?
Students are able to transfer from JDinteractive to the residential law program at Syracuse, as long as there are places available, although students' financial arrangements may be different. Requests to switch from the residential program to the online law degree program will be reviewed on a case-by-case basis.
Are online classes available to residential JD students studying on campus?
We anticipate that upper-level students in our residential program will have the option of taking certain classes online once the program is underway and courses are developed.
Do all law schools accept transfer credits from JDinteractive?
Be advised that some law schools may not accept transfer credits from the Syracuse online JD program.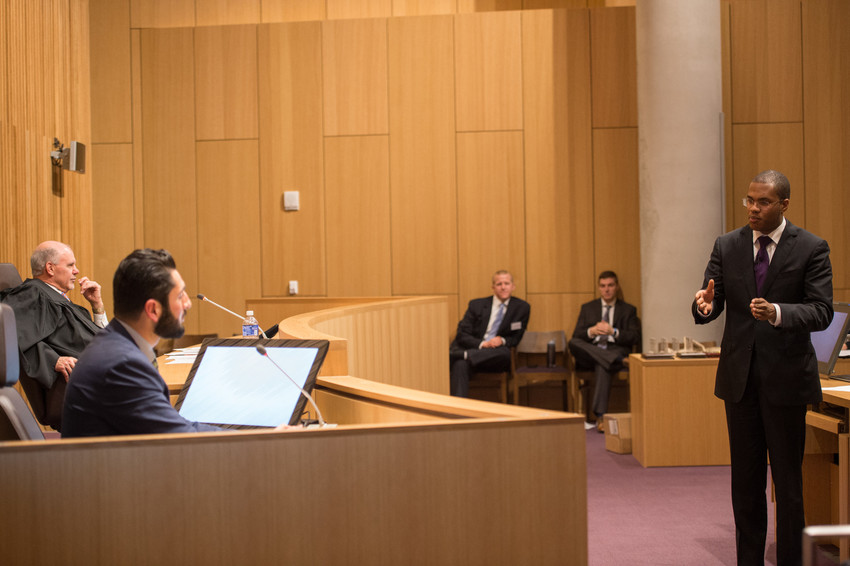 SUPPORT SERVICES
What academic support services are available to JDinteractive students?
Our residential JD program provides student support through the Office of Student Affairs and through the faculty. Online students have comparable access to programming and services, including academic counseling, student support, virtual tutors, study groups, bar exam preparation, and professional development. Like residential JD students, JDinteractive students can engage with faculty for academic support and counseling. Faculty hold online office hours to answer questions and counsel students regularly.
What information technology (IT) support is provided?
Online law degree students are provided technical help via the Center for Online and Digital Learning and Information Technology Services (SU ITS). Tech support help is offered via phone, email, and online chat.
How do JDinteractive graduates prepare for the bar exam? How will online JD students affect the College's bar passage rates?
Because online students complete a parallel curriculum, we expect students in JDinteractive to have the kind of success on the bar exam our residential JD students have.  In 2017, 91.6% of our graduates passed the New York State Bar Exam.
Online law degree students prepare for the bar in the same way as residential students, and they are offered comparable bar readiness programming. Online students also have the same options to use private review classes routinely used by law students nationwide, such as BarBri, Kaplan, Pieper, and Themis.
The College of Law cannot guarantee that online students will have the option to sit for every bar exam in the United States at the outset of the program. However, the College is working closely with state bar examiners to ultimately enable students of the online JD to take the bar exam in every jurisdiction.
What steps has the College of Law put into place to support graduates of JDinteractive in finding employment?
The College of Law is committed to providing all of our students with personalized career and professional development services. Students in JDinteractive have access to the College's career support services, including instruction related to drafting resumes, cover letters, and other job application materials; résumé review; mock job interviews; job search assistance; and guidance related to networking and professionalism.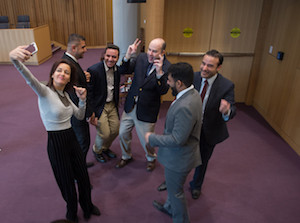 TUITION & FINANCIAL AID
How does the cost of the Syracuse online JD program compare to that of the residential JD program?
Tuition for both the residential and online law degree programs is the same, but the JDinteractive tuition is currently charged on a per credit basis ($1,850 per credit). JDinteractive students will take between 7 and 11 credits per semester.
The "opportunity cost" of attending the Syracuse online law degree program may be lower for many students as compared to attending a residential program. For example, students can continue working while completing their degree, and online students do not have to move their families or leave their existing support systems.
Are financial aid, loans, or scholarships available?
FAFSA—Law students may be eligible for federal student loans. To apply for federal aid, you must submit the Free Application for Federal Student Aid (FAFSA) and include Syracuse University's Federal School Code (002882).
Financial Aid—The College of Law operates its own Financial Aid Office, which is separate from the University's Financial Aid Office. This allows us to provide for personal, individualized service to our students.  We are dedicated to providing outstanding service to our students and invite you to contact us if you have any questions about financial aid opportunities at Syracuse University College of Law. The Financial Aid Office will be in contact throughout the application process to the College. Communications will be sent to students providing instructions to take if the student is applying for financial aid.
Loan Programs—The William D. Ford Direct Loan program allows eligible students to borrow fixed interest rate student loans and defer both interest and principal payments while in school. A variety of repayment options are available once students leave school, allowing everyone to develop a successful repayment strategy. Other federal loan/aid resources available to law students include: Federal Direct Unsubsidized Loan, Federal Direct Graduate PLUS Loan, federal veterans benefits.
Scholarships—Limited merit-based scholarships will be awarded to selected incoming JDi student during the admission application process. The College of Law also maintains an outside scholarship database that students can use to apply for other scholarship opportunities.
What is the anticipated cost for the residential portion of the online program?
Students must travel for the residential portions of the program to our Syracuse campus or to one of Syracuse University's off-campus facilities, in New York City, Washington, DC, or Los Angeles.
During in-person residencies in Syracuse, online law degree students stay in local hotels, such as the on-campus Sheraton Syracuse University. The College of Law will reserve rooms using a block rate. In addition to the tuition charge and residency fee, students are responsible for paying for their rooms and transportation to and from and during the residency.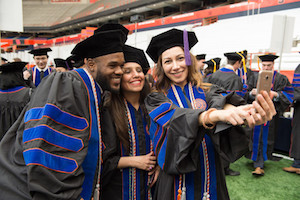 APPROVALS & ADMISSION TO THE BAR
The New York State Board of Law Examiners' policy states that law degrees obtained through correspondence, the Internet, or self-study do not qualify an individual to take the state's examination. How have you addressed this?
New York has some of the most stringent standards in the country, and it currently does not permit students with online degrees to take the New York State Bar Exam. However, we are optimistic that the New York Court of Appeals and the Board of Law Examiners will acknowledge the rigor and quality of our program and allow graduates to take the New York State Bar exam.
Can Syracuse online JD program students sit for the bar in all states?
New Information
Each jurisdiction sets its own criteria for admission to the bar and to sit for its bar examination, including an applicant's legal education.  As graduates of an ABA accredited law school and approved program, it appears that JDi graduates will satisfy most jurisdictions' current legal education requirements and thus be eligible for admission to the bar in most states.  However, the College of Law has identified two jurisdictions that do not currently recognize an online J.D. program as meeting their legal education requisites: New York and New Hampshire. In addition, it is presently unclear whether the JDi program will satisfy the legal education requirements for admission to the bar in Alabama. 
Applicants should be aware that bar eligibility, admission rules and rule interpretations can change.  The College of Law encourages applicants to confirm the legal education requirements for any jurisdiction in which they intend to seek admission to the bar by contacting the state bar admission agencies of the jurisdiction. Addresses for all relevant agencies are available through the National Conference of Bar Examiners.