Syracuse University College of Law's residential JD program provides student support through the Office of Student Life and through the faculty. Online law degree students will have comparable access to programming and services, including academic counseling, student support, virtual tutors, study groups, bar exam preparation, and professional development.
Like residential JD students, JDinteractive students will be able to engage with faculty for academic support and counseling. Faculty will be expected to hold online office hours to answer questions and counsel online students regularly.
OFFICE OF STUDENT AFFAIRS
Additional Support Services
IT SUPPORT
CAREER COUNSELING
Online law degree students are provided technical help via the Center for Online and Digital Learning and Information Technology Services (SU ITS). Tech support help is offered via phone, email, and online chat.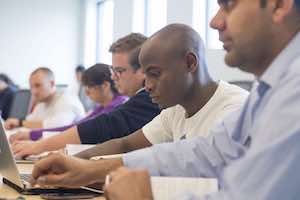 The College of Law is committed to providing all of our students with personalized career and professional development services. Students in the JDinteractive program have access to the College's Office of Career Services, including instruction related to drafting resumes, cover letters, and other job application materials; résumé review; mock job interviews; job search assistance; and guidance related to networking and professionalism.