JDinteractive delivers the College of Law juris doctor degree through a combination of interactive live and self-paced online classes, in-person classes held on campus and at satellite locations, and a guided externship placement.
JDinteractive is a year-round, 10-semester online law degree program designed to be completed over three years and three months, with students taking an average of nine credits per semester.
Learning Outcomes
JDinteractive is a comparable program to Syracuse's residential juris doctor program, and graduates will earn exactly the same degree. Therefore we expect online JD students to receive the same learning outcomes as residential students. More detail about learning outcomes can be found here. Among other outcomes, we expect that all graduates of the JDinteractive program will:
Develop knowledge of a broad cross-section of constitutional, statutory, regulatory, and common law.
Competently comprehend, interpret, and analyze constitutions, statutes, regulations, and judicial decisions.
Speak and write effectively about the law in a manner appropriate to the audience.
Research law and investigate facts proficiently.
Approach legal problems practically.
Appreciate the important roles lawyers play in society and recognize the impact of law on people and institutions.
Core Course & Electives
Sample Schedule
Residential Courses
Core Required Courses (61 credits)

These core required courses give JDinteractive students a strong foundation in the basics of public and private law, including constitutional law, contracts, criminal law, and torts. Other courses—such as legal communications and professional responsibility—ground online law students in the fundamentals of the profession.

Course Descriptions

LAW601
Civil Procedure
LAW609
 Legal Communications & Research I
LAW602
Constitutional Law I
LAW609
 Legal Communications & Research II
LAW603
Contracts
LAW690
 Legal Communications & Research III
LAW604
Criminal Law
LAW699
 Constitutional Law II
LAW607
Property
LAW702
 Administrative Law
LAW608
Torts
LAW746
 Professional Responsibility
Experiential Courses

The College of Law understands the power of practical experience for lawyers in training. Online JD program students are offered a curriculum that includes hands-on experiential learning in externships and skills-building classes.

Course Descriptions

LAW920
Externship Seminar
LAW793
Legal Applications (Residency #2)
LAW921
Externship Placement
Various

 

First Year Skills Class (Residency #3/4)
LAW693
Legal Foundations (Residency #1)
LAW893
Advanced Legal Topics (Residency #5/6)
Anticipated Additional Courses

Course Descriptions

LAW704
Commercial Transactions
LAW722
 Federal lncome Tax
LAW707
Health Law
LAW726
 Intellectual Property
LAW708
Constitutional Criminal Procedure—Inv
LAW728

 

 International Law
LAW712
Business Associations
LAW770
 Corporate Compliance
LAW715
Wills & Trusts
LAW796
 Constitutional Criminal Procedure—Adj
LAW718
Evidence
LAW832
 Cybersecurity Law & Policy
LAW720
Family Law
Other Approved College of Law Courses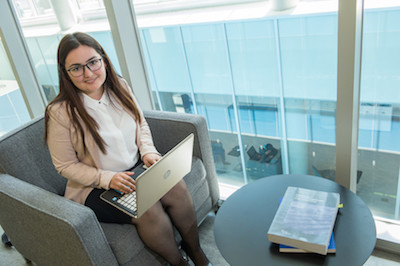 College of Law Experiential & Advocacy Programs
Each student will have an externship opportunity prior to graduation, which will give them the chance to apply what they are learning in a legal practice setting.  Experiential learning opportunities will be incorporated into the on-campus courses.  For example, the third and fourth residencies will focus on building specific skills today's lawyers need. 
EXPERIENTIAL COURSES
EXTERNSHIPS
MOOT COURT
STUDENT-RUN JOURNALS